Welcome everyone again! Today we're going to visit Amsterdam on King's DAY! Wow, it's fantastic! Next April of 28th we're going to celebrate Koningsdag a.k.a. King's Day! And this article will help you to survive looooonnnngggg Amsterdam Day! So, if you're ready because we're already let's begin with our survival tips!!!
(Türkçe inceleme için lütfen buraya tıklayın.)
1.  What is that King's Day?  (Wat is deze Koningsdag?)
According to Dutch "King's Day (formerly Queen's Day) festivities invite locals and visitors alike to soak up Amsterdam's open-air fun. In the streets, canals, parks and everywhere in between, the city is bursting with orange as Amsterdammers enjoy the biggest street party of the year!" Cool right? But for me and the coologgers, it's a festival that you can't use free public transport, free beer, free french fries a.k.a patat!, free weeds? (this might be illegal but shhh) and party!!!!! So it's fun.
It's a myth actually. We'd like to make some sarcasm about it but it went wrong obviously.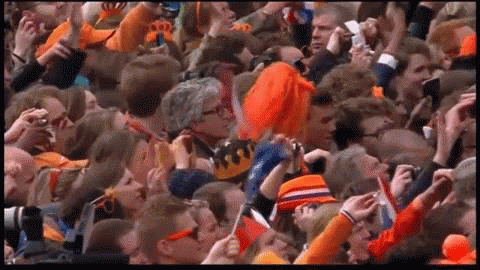 2. Are we going to celebrate King's birthday or day? I mean for real?
Yeeeeessssss and nooooo! But there's a slight change to celebrate them. But formally, it's impossible but practically it is possible.  You can see them while they were waving their hands in the balcony.  Behind the Ferris Wheel! Remember that! So, it's possible. Who knows "If you can be a good kid, one day you can see the Royal Family too."
3. History of the King's Day!
Amsterdam celebrated King's Day (Koningsdag) for the first time in 2014, after the inauguration of King Willem-Alexander on 30 April 2013 (what was then still Queen's Day). The royal celebrations were first held on 31 August 1885 in honor of the birth of Queen Wilhelmina, and the Queen's Day (Koninginnedag) tradition was born. After Wilhelmina's daughter (Juliana) succeeded to the throne in 1949, the day was changed to 30 April in accordance with the new Queen's birthday.   When she became queen, the now Princess Beatrix chose to retain the day in honor of her mother but as of 2014, King's Day is officially celebrated on 27 April (the king's birthday). Every year, the royal entourage visits a town or municipality in the Netherlands as part of the celebrations.
4. What will we encounter on the King's Day?
A lot of things. Free parties. Unlimited fun. Open bazaars in everywhere. Local people. Tourists. Concerts! DJ Performances! Coffee Shops! Weeds! More Weeds! Ex-Girlfriends! Hallucinations! Sobering trials! And people who fall into a sleep on the streets. So a lot of things. Be Brave!
5. Any tips for King's Day?
Yo, come here and listen to me! First things first you must wear orange! That's the main rule of the day. Because %90 of the people in that day will wear orange t-shirts, uniforms, shorts, hats… etc. So you must wear orange! Cuz orange is the new black!
After you wear orange, you must know some rules about Amsterdam. For example, you can't smoke weed or eat cake on the street. (Well if you want, you can. But we don't recommend this to you. Furthermore information please click this link) You can't sleep on the street. You can't vomit on the street!  If you want to go some museums on that day. Please don't! Because most of them are closed on King's Day (Except the Anne Frank House, Van Gogh Museum, Stedelijk Museum and the Rijksmuseum.). You can use the transport for free. Don't pay it! Pack your emergency stuff in case that battery die and sobering attention. Join the street parties! Buy some stuff from the street sellers! Enter the canal tour! Live the moment! Eat the patata! Drink beer! and the most importantly: HAVE FUN! That is the most important thing on King's Day and live a memorable day!
Those are my suggestions to you.
Do we have time for extra content? Yessss we have!!!
So here are the top 5 fun facts about the King's Day!
1) King's Day is the Dutch monarch's birthday! (Long Live the King!)
Could this be the world's biggest birthday party? Very possibly. King's Day marks the birth of King Willem-Alexander on 27 April, and everyone in the Netherlands gets the day off work to celebrate. And boy, do they celebrate.
Fact: If the King's birthday falls on a Sunday, as it did in 2014, then the King's Day celebrations take place a day earlier, on Saturday
So as you can see we're celebrating King's Birthday with the whole country because of the king doesn't have friends??? Hmmmm… or he's a very kind person because he wants to a day off like in 2014!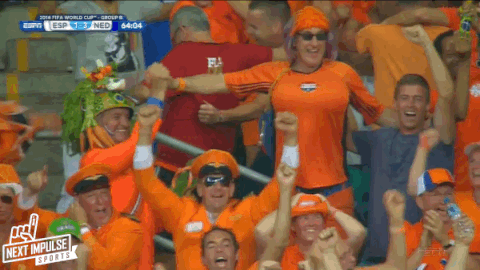 2) It used to be called Queen's Day! 
Prior to Willem-Alexander's accession to the throne in 2013, King's Day was called Queen's Day (Koninginnedag) and was held on 30 April in honor of the former monarch Queen Beatrix. 30 April was not actually Queen Beatrix's birthday, but her mother's. Beatrix decided to keep Queen's Day as 30 April in honor of her mother – no doubt much to the delight of the Dutch people, since Beatrix's real birthday falls on a wintry 31 January. Brrr!
Fact: The royal celebrations were first held on 31 August 1885, in honor of the birth of Queen Wilhelmina!
So, the king changed the name of the day.  Now it's your turn, my sisters!!!
3) You can eat like a King all day!
All that partying sure does work up an appetite, so thankfully you'll find delicious treats around every corner, with hundreds of street food vendors lining the roads and squares. For those with a sweet tooth, no King's Day is complete without sampling the local tompouce, a sweet pastry loaded with cream that will be all over your cheeks in no time at all. They are decorated with orange icing, especially for King's Day.
Fact: There's a whopping 600% increase in tompouce sales on King's Day compared to any other day
So, It's time to stop your diet just for a day…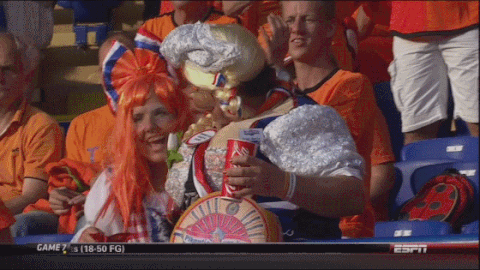 4) Take a deep breath and go with the flow!
Amsterdam gets pretty crowded on King's Day. In fact, with between 600,000 and a million people descending on the city especially for the celebrations, Amsterdam's population on King's Day is twice that of any other day. Where do all the people fit? Well, everywhere. Every street, canal, balcony, and terrace is awash with orange-clad revelers on 27 April – so don't expect to get anywhere in a hurry. Just take your time and go with the flow.
Fact: 250,0000 people arrive in Amsterdam by train on King's Day!
We came here by bus. Does it count?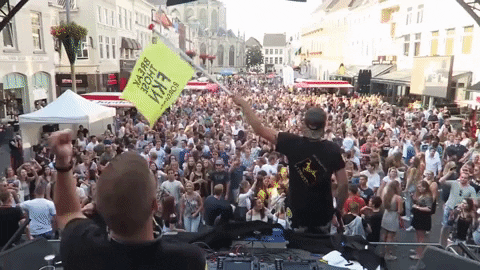 5) Amsterdam becomes one huge street market on King's Day! 
One man's trash is another's treasure, and King's Day is certainly a day for treasure hunting. A free citywide flea market (vrijmarkt) pops up along every street and public space, with locals and visitors of all ages setting up stalls and turning market traders for the day. Everyone is allowed to sell or trade their unwanted items, and you'll always find plenty of bargains and interesting trinkets from the attics of Amsterdam's old houses. If you've got kids, then head to Vondelpark where hundreds of children set out their stalls with toys and books.
Fact: The average street-seller makes €90 on King's Day
It's time to make money!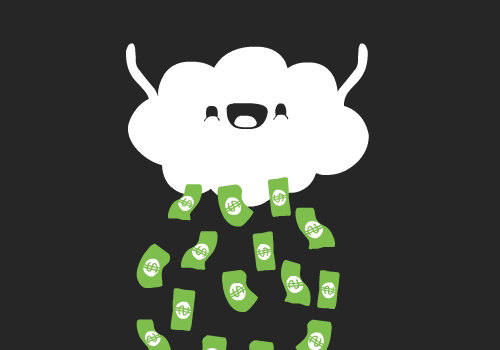 Soooo, beloved coologger friends and readers, this is the end of the post.  As you know, we need to extend our website to the other people in the world. So, if you're reading this, please share it with your friends!  So, there will be always some grammar mistakes in here but don't worry I use Grammarly!  Also, I want to thank iamsterdam.com for useful information. You can see our sources in here! Thanks again and see you soon!